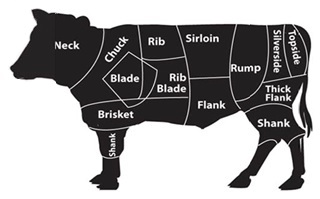 (V)Vegetarian (GF)Gluten Free (DF)Dairy Free
Please advise your waiter of any special dietary requirements.
15% surcharge applies on Public Holidays.
Our produce is delivered fresh and is subject to availability.
STANBROKE BEEF
Our exclusive partnership with Stanbroke Beef brings you the finest export quality beef to Brisbane.
STANBROKE CERTIFED ORGANIC
Certified by internationally recognised bodies such as NASAA and USDA Organic. Stanbroke ensure the beef is both raised and processed 100% organically.
STANBROKE ANGUS MARBLE SCORE 3+
You will be pleasantly surprised to taste an Angus marble score of 3+ in Brisbane. Stanbroke Angus beef comes from verified Angus cattle for consistent marbling and flavour.
STANBROKE WAGYU MARBLE SCORE 5+
Offering a unique marbling, tenderness and flavour. Grazed naturally for the majority of their lives before moving to carefully prepared rations of Australian wheat and barley.